Glenigan Index for March finds construction activity up 6% year on year.
Residential Index shows highest growth since August 2014, boosted by 12% rise in private housing schemes.
Non-residential construction starts expanded by 5%, fuelled by gains in privately funded building.
Civil engineering back in the black, with project starts up 3%.
Public sector activity remains subdued due to continuing declines in health and community and amenity sectors.
A double digit rise in private housebuilding has driven construction activity into positive territory for the first time this year, according to new figures from industry analysts Glenigan.
The Glenigan Index for March, which covers the value of projects starting on site in the three months to February, is 6% up on a year ago, with private housing returning to the forefront of industry growth.
The underlying value of private housing schemes starting on site rose by 12%, taking the Glenigan Residential Index to 8% higher than a year earlier – the fastest rate of expansion since August 2014.
There was also some respite for the social housing sector, where starts were up on a year earlier for the first time since August, albeit by a modest 2%.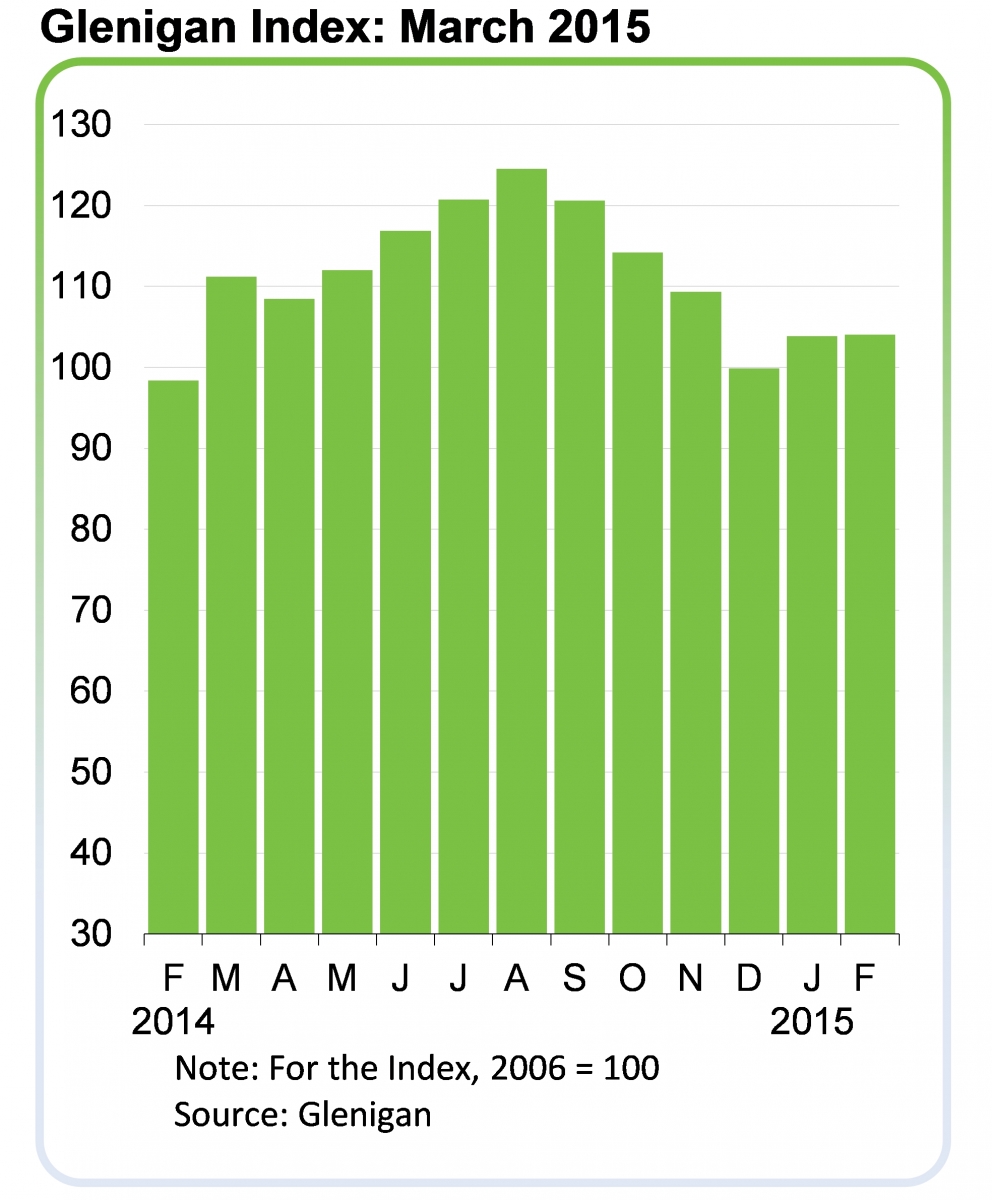 Allan Wilén, Economics Director at Glenigan, said: "Buoyant financial results statements released by several housebuilders in recent weeks point to housing market conditions remaining strong.
"Sales rates have remained level with, or above, rates seen during the first eight weeks of 2014, despite the number of mortgage approvals falling by 17% between January and December last year."
He added: "A tightening of lending procedures by the Bank of England led to a cooling in mortgage lending throughout 2014.
"However approvals picked up by 2% between November and December – a sign that the reforms have bedded in and mortgage credit may begin to ease once more over the coming months.
"Moreover, the pipeline of potential schemes is strong. The underlying value of detailed planning approvals secured for private housing schemes has risen by 15% over the 12 months to January."
Elsewhere in this month's Index, civil engineering starts are also back in the black, up 3% compared to a year ago.
Large schemes starting on site during the period include the dualling of the A26 between Glarryford and the A44 in County Antrim (Glenigan Project ID: 13397818). Construction has also begun on the £90 million Humber riverside berth in Hull, which will be used to transport offshore wind turbines built by Siemens (Glenigan Project ID: 11031193).
Non-residential construction starts expanded by 5% compared to a year ago, fuelled by gains in privately funded building.
Industrial starts rose by 8% compared to a year earlier, a strong performance given that starts in this volatile sector expanded by 86% during the same three months last year.
New commercial construction remains on the up with the office, retail and hotel and leisure sectors all seeing higher values of starts compared to 2014.
Across public sector dominated areas, activity was more subdued.
The underlying value of education starts rose by 3% during the latest three months. However growth in the underlying value of health starts has faltered after growth in the third and fourth quarters of last year.
Meanwhile, the decline in community and amenity projects seen during 2014 has continued unabated. Starts fell by 11% during 2014 and are down a further 20% over the last three months.
London has seen a modest drop in starts, down 4% year on year. However, as starts rose by 47% during the same period of 2014, the dip points to stabilisation rather than a sign of weakening activity ahead.
The Northern regions have been the main engine of growth across England over the last three months, with the East Midlands also recording a strong rise in activity.
Wales and Northern Ireland registered higher levels of starts than a year ago; however activity in Scotland is still being hindered by a slowdown in detailed planning approvals during 2014.
The monthly Glenigan Index is based on extensive research of every construction project starting in the UK over the previous three-month period, providing an indicator of developing activity and future output in the industry.
Posted by the Glenigans March 4th 2015