Starts in the three months to July were 12% up on a year ago, but 32% down on the previous three months.
Residential starts were 10% lower than a year ago and 36% down on the preceding three months.
Non-residential project starts were 9% down on a year ago and 20% lower than during the February to April 20165. Office project starts dropped 38% against the preceding three months and were 32% down on a year ago.
Public sector non-residential areas were also down on the same three months a year ago, when project starts were starting to improve following General Election related disruption.
Civil engineering projects starts dampened overall starts, being 32% down on a year ago.
The value of work starting on site in the three months to July was 12% down on the same period of a year ago, according to the latest Glenigan Index.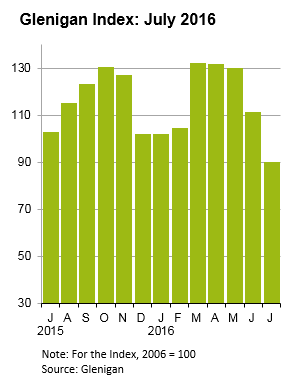 Commenting on this month's figures, Allan Wilén, Glenigan's Economics Director, said: "The 12% decline in Glenigan Index covers project starts in the run-up to the EU referendum and its immediate aftermath. High levels of political and economic uncertainty during the period prompted many private sector investors to defer investment decisions, contributing to the recorded drop in project starts.
"Non-residential project starts were particularly weak, due to fewer office, hotel & leisure and industrial projects commencing on site. This, combined with a fall in civil engineering project contributed to the overall decline in the index against both the preceding three months and a year ago.
"The three months to July also saw a 10% drop in residential project starts, as a slowing in private sector work combined with weak levels of social housing starts.
"The potential development pipeline remains firm, with the value of projects securing detailed planning approval during the first half of 2016 is 5% up on a year ago. However the strongest growth in approvals have been in those sectors where project starts have been most affected by referendum uncertainty; private housing, industrial and office developments.
"The political outlook has begun to become clearer in recent weeks, following the appointment of the new Prime Minister and cabinet. Nevertheless we anticipate that the uncertain economic and political outlook will continue to disrupt the progress of some projects to work on site. Accordingly, we expect an overall weakening in project starts during the second half of 2016.
Regionally the North East and West Midlands were the only parts of the UK were starts were up on the three months to April. However, there was a more mixed performance against May to July 2015, with the value of underlying starts in the South East, South West, West Midlands and Scotland all ahead of a year ago.
Source: Glenigan